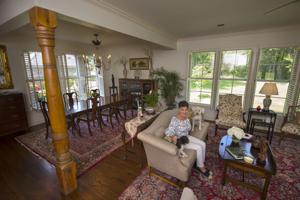 Janie Spaht Gill proves you can go home again.
After 28 years in Lafayette, the pull of family brought the newly widowed Gill back to Baton Rouge, where she grew up.
"My children and my two granddaughters are here," she said. "My brother and sister-in-law are here."
After a six-month hunt, Gill found the perfect house in a one-street neighborhood off Old Hammond Highway.
"I picked it because it reminded me of my parents' house on Dubois," she said. "It's light and airy."
The house was in excellent condition, but Gill added her own touches with new paint, more lighting and a refresh of the stucco on the exterior. She also built a fence for her two dogs, C.C. and Rocky.
The home is built on a modern open plan.
The front door opens to a small foyer that gives way to the main room — a combination living room, dining room, kitchen and keeping room. Light flows in from four windows in the living room area, three windows and a door in the dining area, two in the keeping room and two in the kitchen.
Gill painted the interior walls and trim in the same eggshell color and left the interior shutters that came with the house instead of hanging heavy drapes.
As for decorating, Gill went the traditional route with antique furniture, Oriental rugs and art, mostly from her parents, the late Judge Carlos and Loretta Spaht, a well-known collector. 
"I bought nothing," Gill said. "I had a lot off furniture in storage since Mama died."
One of Gill's biggest decisions was whether to paint the kitchen's cypress cabinets. Some friends thought she should paint them white, but she resisted.
"I just couldn't paint the beautiful cypress," she said. "The cabinets go with the countertops. They go with the house." 
From the main living space, two separate wings lead to the master bedroom and bath on one side, and, on the other, a bedroom and study for granddaughters Lanie Grace Everett, 17, and Sadie Everett, 12. The girls come every day after school to do their homework with some help from Gill, a retired teacher and author of children's books.
"This is a second home to them," Gill said.
Two special pieces, a screen in the living room and a mural in the master bedroom, belonged to a dear friend, the late Bernice Hartley, whose son, Rick Hartley, gave them to Gill for her new home.
She relied on Virginia Hutchison Cain in selecting colors and fabric for recovering the upholstered pieces and for dust ruffles and pillows made by a Lafayette friend, Miriam Ellis. Gill worked with her daughter-in-law, Shannan Everett, who owns HighlandSide Gifts, on the lighting and accessories, and Betty Miller helped her hang the mirrors and pictures.
Landscape architect Guy J. "Trey" Hymel designed a plan for Gill's yard and helped her with the planting in the front and around a small patio in the back.
In the six months Gill has lived in her new home, she has enjoyed catching up with her old Baton Rouge friends and has hosted several family parties as well as a reunion party for her University High Class of 1962.
"I feel very free in this house," she said. "Very peaceful."