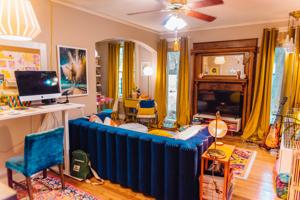 As a freelance photographer, Jordan Hefler distills her photos to their very essence. But inside her 650-square-foot Garden District apartment — where the furnishings and knick-knacks are awash in vibrant, eye-catching colors — it's an entirely different picture.
"Sometimes I wish I really could be a minimalist in real life," she said. "But the truth is that I have a lot of little knicky-knacky things that I just need to put somewhere."
Hefler's eclectic design speaks to who she is, reflecting her distinct "chromatic lifestyle" in her private space, as well as on her Instagram feed and website, which pop with yellows, oranges and blues, with pinks and greens mixed in.
Something draws the eye at every turn — the deep blue HomeGoods sofa; the large piece by local artist Thomas Wimberly that's the focal point of the living room; the vintage teal coffee table from Aladdin's Lamp Antiques; the pink dining room table from the now-shuttered Honeymoon Bungalow that was a Macy's sales table in a past life; a pair of matching Ikea shelves filled with her bits and bobs collected over the years.
"I love the area, and I love being able to decorate the way I want to and be at home around all the things that I love," she said. "As superficial as that sounds, that makes a huge impact on my mental well-being, I think, and my productivity as a creative person."
Can't see video below? Click here.
With no budget for expensive pieces, Hefler looks for affordable prices: her yellow beverage cart came from Pink Elephant Antiques; the midcentury bedside table was found on a Nextdoor listing; the black-and-cream patterned living room chair was a gift from her boss at Manship Theatre, where she works as a graphic designer; from her grandmother came the cream vanity chair in her bedroom; and the standing mirror with jewelry storage was found by a dumpster.
"I'm very into the midcentury aesthetic, but I can't afford a lot of the midcentury stuff, so I'm kind of throwing accents in there when I can," Hefler said.
The objects that are the most unusual, and the most personal to Hefler, are the clowns.
They're hard to miss. These are vintage, jolly clowns from days past when they didn't have such a bad reputation.
"I grew up liking clowns. I was never scared of them. I dressed up as them for Halloween," she said. "I like the whole metaphorical aspect of it, that it's like a person but they're being masked — they're fake happy or real happy — you don't know. It's very controversial, but it makes me different. … People are kind of disturbed by it, but I kind of just roll with it."
The clowns grow on you. Their happy faces and Hefler's genuine love of them is enough to bring most people around. That their colors flow with the rest of the apartment certainly helps.
Hefler said her style took a few years to evolve, deciding what she liked and finding pieces that matched the space.
"I think I've got it kind of down. Because I didn't use to think about stuff. I used to be like, 'I like this. I like this,' and then I'd come home and be like, 'All this goes together. Wow. That must mean that I have a style,'" she said.
And, when something doesn't work out, Hefler and her handyman brother make adjustments. The TV stand, which now serves as a music/media stand, was too large, so Hefler and her brother built one from scratch. When she couldn't find curtains to fit her kitchen window, she altered a tasseled shower curtain from Bed Bath & Beyond to fit.
There are still some loose ends — the kitchen cabinets lack knobs, the living room ceiling has water damage — but Hefler's content.
"It's worth it for the rent, for the location. So I just throw a bunch of stuff everywhere, so hopefully it distracts you," she said, laughing.