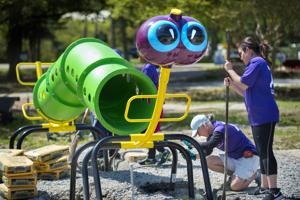 Want to see pollinators — bees, butterflies, hummingbirds and more — at work?
Visit the recently completed Pollinator Garden at the LSU AgCenter Botanic Gardens at Burden, 4560 Essen Lane, from 9 a.m. to noon on Friday, May 11, for a free event that celebrates National Public Gardens Day.
The 23,000-square-foot garden is an oasis of nectar- and pollen-rich plants for insects and other animals that spread pollen and fertilize flowers and crops. The garden is also a teaching tool designed to educate children and adults alike on the importance of pollinators.
During the event, entomologists from LSU and beekeepers from the Capital Area Beekeepers Association will offer lessons on bees and other insects, and youngsters can  can learn the basics of flower and insect interaction in a pollinator-themed yoga session.
City Gelato will be selling a specially made gelato crafted with honey harvested from hives at the Burden Museum & Gardens property. Potted plants donated by Clegg's Nursery will be raffled, and the first 100 guests also will take home their own free pollinator plant, a zinnia.
The Pollinator Garden grows milkweed, salvia, hibiscus and other plants that are attractive to pollinators along with an insect-themed play area for children that includes a dragonfly seesaw, a honeycomb climbing station and a giant caterpillar climber. 
Planting a garden full of pollen- and nectar-producing plants can help honeybees and other pollinators thrive, LSU AgCenter entomologist Kristen Healy.
"One out of every three bites of food we eat relies on insects — primarily bees — and other organisms for pollination," said Healy. "Many of our important crops rely on insects to carry pollen from one flowering plant to another for many fruits, vegetables and legumes to grow."
The Pollinator Garden helps educate visitors on which plants attract these beneficial organisms.
"They are learning to choose flowers not only based on their looks but based on what they can do for the environment," said Allyson Huval, the Botanic Gardens's event coordinator who has worked on the new garden for the past year.
For more information on growing a pollinator garden, visit lsuagcenter.com.