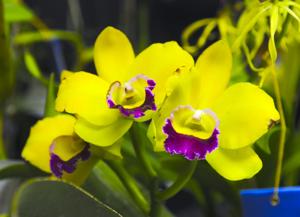 For those who have always wanted to try their hand at growing orchids but don't know where to start, the Baton Rouge Orchid Society's annual show and sale will set you on the right track.
The two-day event July 13-14 focuses on the art of nurturing these exotic beauties.
The show will be held at the Burden Center, 4560 Essen Lane. Hours are 9 a.m. to 5 p.m. Saturday and 10 a.m. to 4 p.m. Sunday. Admission is free.
The orchid family is the largest family of flowering plants, with 35,000 species and 150,000 hybrids. Hundreds of orchids in all shapes, sizes, colors and aromas will be exhibited in tropical displays that resemble their natural habitats or to showcase this year's theme "Backyard Orchids." Flowers and displays will be judged.
Potting demonstrations will be held throughout the show. You can bring plants that need re-potting, and orchid society members will demonstrate how to do it. All repotting supplies will be provided by the society.
Society members also will be available to answer questions, advise on purchases and offer any other assistance. Several plants will be raffled, with winners selected at 3:30 p.m. Sunday.
Commercial vendors from across the Gulf Coast region will have a variety of orchid plants for sale, ranging in size from small seedlings to blooming plants. Cultural information will be available. Vendors will also show off their plants in exhibits in the show.
The society, which is celebrating its 60th year, welcomes new members. Visit batonrougeorchidsociety.com or call (225) 383-3554 for more information.