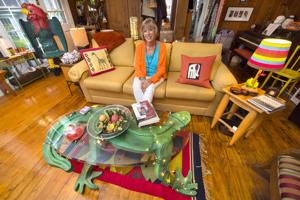 There are collectors, and then there's Mary Helen Borck.
Whether it's whimsical chairs, clothespin dolls, animal-themed lamps or clocks, Borck can find a place for them all in her 1,800-square-foot home in the Hundred Oaks neighborhood.
After living in a much larger house for 25 years, Borck and her late husband, Jim Borck, downsized, but her collections and hundreds of his books moved with them.
Now, 17 years later, she's still collecting.
"I will see something that I like, and when I get it home, I wonder where I am going to put it," said Borck, whose living room, dining room, hobby room, den and kitchen are filled with her treasures.
Some collections, like her chairs, sprawl throughout the house.
There's a chair with a pitchfork back, one in the shape of a chicken, another shaped like a hand, an old "timeout" chair with a place for a bar to restrain a naughty child and a lime green and white chair with a black beach-ball seat.
"I love chairs," she said. "I probably could seat 100 people."
She found the huge chicken chair at a store in Destin, Florida, and somehow managed to get it home in her tiny car, a Mini Cooper.
"I had to unpack my clothes, but I managed to get it in," she said.
---
Can't see video below? Click here.
---
The chicken chair is in the den, which Borck calls the "animal room" because it's home to her lizard coffee table, flamingo lamp, fish throw, animal throw pillows and a dinosaur lamp she found in a garage sale, where she loves to shop.
The den, which was enlarged by a previous owner, has hardwood floors and natural pecky cypress walls. Doors and windows at the back open to the partially covered deck, which wraps around to the north side of the house. 
A large living room, with hardwood floors and a fireplace, is the center of her home. In a front corner, settled under one of two picture windows, is a chaise Borck found in an estate sale. She had it covered in white duck cotton.
"It's great to read in," she said, adding, "but you will end up taking a nap."
In a place of honor in the living is Borck's very first piece of furniture, a wooden hutch she found at Causey's, an old Baton Rouge furniture store that was located on Government Street.
"Mr. Causey let me take the piece home and pay him $5 a month until it was paid off," she said.
A wide, arched doorway connects the living room to the dining room, which is flooded with light from a bay window at the front of the home.
A woodworking teacher at Central High School made her 8-foot-long dining room table. He charged $100 per foot.
"He also charged $100 for each hidden drawer," Borck said. "I wanted two drawers, but I could only afford one."
The front bedroom was originally a study for Jim Borck, who taught English at LSU and died in 2007 after years of living with Type 1 diabetes.
Borck donated his massive collection of books to McNeese State University in Lake Charles, which was damaged in Hurricane Rita. She now uses that room for her candle-making hobby and as a playroom for her three grandchildren.
The candle room also houses her collection of clothespin dolls, many in holiday themes. She bought them over years at the Broadmoor Arts and Crafts Festival.
Right after the Borcks moved to their home, they purchased a bed crafted by Maine cabinetmaker Thomas Moser, something Jim Borck had always wanted. It's the only thing in the master bedroom.
A third bedroom serves as Borck's closet and storage area with a daybed.
"The way I have it arranged is that I only sleep in the master bedroom. Everything else is in my extra room," she said. "When I have guests, I give them the master bedroom, and I use the extra room. It's like an apartment." 
The "not-so-modern" kitchen has a new vintage-style red stove.
Borck said she always intended to change the tile counters, but never has.
"I could get what everybody else has on their counters, but this is a period thing," she said. "What I have goes with the house."
Borck, who started her career as a teacher and then moved to educational services at The Advocate, changed course in 1995, going to nursing school. She worked for many years as a clinic nurse, retiring in 2014.
These days, she likes to travel, visit with her grandchildren and work in her very natural garden.
"I have dabbled in a bunch of stuff," she said. "I like retirement better than I thought I would. You can always find something to do."