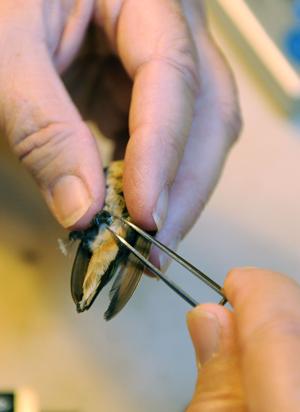 We know some hummingbirds spend the winter in Louisiana thanks to Nancy Newfield, a stay-at-home mom who was just trying to teach her children about nature's smallest bird.
Newfield is now a prominent hummingbird researcher, but in the early 1970s, the New Orleans resident was just keeping an eye on her yard.
One winter, she saw a number of different hummingbird species at her feeder. Ornithologists met her report with skepticism. 
"I grew up with brothers, so knew I had to prove myself," she said.
Newfield taught herself how to band the tiny birds and received a permit in 1979 to begin a five-year study to examine winter hummingbird activity in south Louisiana. July marked the 40th anniversary of her banding project.
"I tell everyone I'm now in my 41st year of a five-year study," she said.
Her work proved that seven different species of hummingbirds do indeed winter in Louisiana. Through the years, she has discovered more information on the birds.
"A few years ago, we banded a rufous in Thibodaux, and they caught him in British Columbia," Newfield said. "We caught him again in Thibodaux. That gave us concrete proof that he had traveled about 2,300 miles. It also showed us that hummingbirds could come back to the same spot."
Through the years, Newfield has become a lecturer and authored books and numerous journal articles about hummingbirds. She also continues her research.
Erik Johnson, director of bird conservation for Audubon Louisiana, encourages more citizen science participation in bird research, including hummingbirds.
He said if you see a hummingbird at your feeder from November through February, email your name, address (town only is acceptable), first observed date, species, sex (male, female or unknown) and whether banded (and, if possible to see, when and by whom), in addition to any photos to ejohnson@audubon.org.