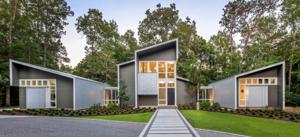 From a re-imagined former utility plant to a home that defies traditional spaces, architects in the area stretched their creative muscles in the annual Rose Awards competition of the Baton Rouge chapter of the American Institute of Architects.  
In all, 11 projects by eight architectural firms were recognized for design excellence in various categories. A panel of national architects chose the winners from submitted projects completed in late 2017 and throughout 2018. 
And the winners of are …
Rose Award & Members Choice Award
The Fold House by Holly & Smith Architects, of Hammond — This 4,100-square-foot home in Pumpkin Center is located on 13 acres of forested land adjacent to a creek that ties into the Natalbany River. Home to a landscape architect, the structure was built to encompass views to the creek at the edge of the site and trees along the adjacent ridge. The taller center building and two smaller structures seem to fold into each other to function as home, office and art gallery. Both exterior and interior are minimal in the palette of finishes, providing the perfect backdrop for the owner's extensive art collection.
Gold Rose & EBR Planning Commission Award
Electric Depot Building A by DNA Workshop — The social entertainment hub, which includes Red Stick Social, sits on the former Entergy site on Government Street. The building, constructed in 1915, had fallen into disrepair after the power company moved out. Its industrial character — structural steel roof trusses, concrete and steel columns, masonry walls — defined the 29,116 square feet of space, and the rehabilitation emphasizes those industrial elements in the venue which includes a restaurant, bowling alley, bar and music space.
Silver Rose & EBR Planning Commission Award
East Baton Rouge Career & Technical Education Center by Domain Architecture — This $10 million facility on Lobdell Boulevard is where high school students can train in high-demand fields, including computer science, medical fields, construction crafts and manufacturing. The facility consists of 3 industrial labs — framing, electrical and manufacturing — and a fourth lab for medical training. The facility also provides meeting space for students and industry. All mechanical, electrical, plumbing and technology systems in the building are on display, so the structure itself becomes a real-life diagram of concepts being taught in the labs and classrooms.
Gold Rose Awards
LSU's Patrick F. Taylor Hall College of Engineering by Coleman Partners Architecture and the Dallas office of Perkins & Will — The $100 million project addressed the college's evolving curriculum needs, its outreach and recruitment and the evolution of engineering education. The architects redesigned 300,000 square feet of existing space and married it to 130,000 square feet of new space, connecting the two by a three-story atrium and dining areas.  
Cambria Hotel in Nashville by Holly & Smith Architects — The $50 million new downtown Nashville hotel is the flagship property for the new chain. It includes a five-story base containing four levels of parking, building services and space for a future restaurant tenant on the ground floor. A stepped tower rises an additional 14 stories and contains 255 guest rooms and suites. The main lobby is located on the fifth level, along with meeting space, fitness center, hotel restaurant/bar with a stage for live performances, a barista bar and an outdoor pool deck and bar.
Silver Rose Awards
Baton Rouge Area Chamber by WHLC Architecture — This $2.2 million renovation and expansion of the David E. Roberts Center for Economic Development, home of the Baton Rouge Area Chamber at Laurel and Sixth streets in downtown Baton Rouge, created a modern office and conference center reminiscent of the 1950s original design. Clear floor-to-ceiling windows bring in natural light, while an exposed ceiling adds height. What had been a parking lot became the new conference center and an additional entry. Technology and AV equipment was integrated throughout the building. 
Louisiana State Licensing Board for Contractors by RHH Architects — Located in downtown Baton Rouge, this $5.9 million building is the new headquarters for the state agency that regulates the construction industry for the state. The ground floor houses most public functions: lobby, reception, large public hearing room and office space for the applications division. The two upper levels include offices for administration, testing rooms for contractor certifications and the investigative and records divisions.
Rose Awards
IWD Agency by Ritter Maher Architects — In a $489,000 renovation, the once-residential building in downtown Baton Rouge was modified for an e-commerce development agency. The design capitalized on existing materials juxtaposed with contemporary materials to promote creativity. The simplicity of the design allows in natural light, bathing each office and work space in a bright glow.
East Lakeshore Residence by Cockfield Jackson Architects — Located on an inner-city lakefront site, this 11,900-square-foot residence was designed for a retired couple with an open and flowing arrangement of the interior and exterior family areas. It features the two-story Greek Revival New Orleans Garden District architectural style with a two-level gallery front façade that offers panoramic views of the lake from all interior and exterior family areas.
Rocca Pizzeria by Ritter Maher Architects — With a $200,000 budget, an existing restaurant built in 1948 was completely transformed into a pizzeria located in Mid City Baton Rouge, complete with custom-tufted banquet seating, marble counters and gold light fixtures to create an upscale-but-approachable design.
Cambria Hotel in New Orleans by Holly & Smith Architects — Located on the site of a former parking lot in the historic Warehouse District, the $23 million, seven-story, 162-room hotel was designed to relate to its historic context, while respecting neighboring buildings. The simple palette of brick, steel and glass gives the structure contemporary style.