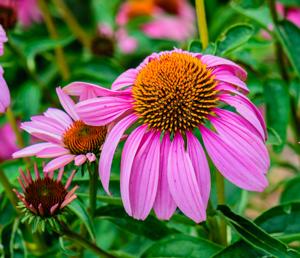 Find out how to color your yard with perennials and how to keep your houseplants alive at East Baton Rouge Master Gardener session Thursday at the East Baton Rouge Main Library, 7711 Goodwood Blvd.
The program, from 6:30 p.m. to 8:30 p.m., is free and open to the public. Registration is not required.
"Daisies and Other Flowering Perennials" will be presented first by Louisiana Master Gardener Kathy Conerly, who will talk about perennials that add color to the landscape, are often low maintenance and bloom or return each year.
Attendees will learn the difference between woody and herbaceous perennials and how to choose which perennial will grow best in their yards.
"Find out how to plan and execute a new look, or how to add to your established landscape," Conerly said in a news release. "We will discuss what grows best in our area and how to get the curb-appeal you'll love."
In the second talk, "Incredible Houseplants that Anyone Can Grow," Master Gardener Angie Wall will highlight what even "hard-to-kill houseplants" require — seasonal amounts of light, water and humidity.
Wall will also talk about houseplant selection to match their indoor requirements.
"I have always had houseplants and my early training in the care of houseplants came from tips from my mother and grandmother," said Wall. "My recent favorite houseplants in my sunroom include peace lilies, cacti and ficus plants."
The next program in the EBR Master Gardner Association's Library Series will be at 6 p.m. June 6 at the EBR Carver Branch Library, 720 Terrace St., with talks "Now is the Time to Prepare for a Fall Vegetable Garden" and "Plant Selection for Fall Gardens."
For more information on the series or the association's other outreach activities, visit ebrmg.com.