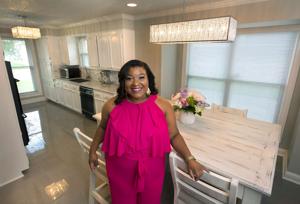 Makesha Judson got the inspiration for her home from HGTV's "Fixer Upper," both in style and in literally finding an older home to fix up.
After looking at several homes, Judson chose the oldest and least expensive. 
"Contrary to what I thought, I saw that I could get an older home at a better price and renovate it to make it my home," said Judson, who works for the Louisiana Department of Children and Family Services. "The bones of this house were so good. All I had to do was cosmetic changes."
Even before she began her search, she zeroed in on the Shenandoah area.
"I was working off Sherwood," she said. "On my lunch breaks, I would drive around, and I noticed the amenities in this area. There were grocery stores all around as well as restaurants and a movie theater."
Shortly after moving to her home in Shenandoah Park in 2014, her own "Fixer Upper" project began.
Judson pulled out the old carpet and had wooden floors installed. She painted and added crown molding and recessed lighting in the living room.
"I was trying to do a home inspired by 'Fixer Upper' — a little rustic but fabulous at the same time," she said.
---
Can't see video below? Click here.
---
Her latest project is a complete renovation of her kitchen done by family friend Jerry DeCuir.
To create a more open space, DeCuir widened the doorway between the kitchen and living room. The expanded space gave Judson plenty of room for her large, whitewashed dining table and chairs. Over it hangs an oblong, sparkling chandelier. It's a mix of shabby and chic of which Joanna Gaines (the style guru on "Fixer Upper") would be proud. 
"I wanted a wow factor from the chandeliers," said Judson, who installed them in several rooms.
Out went the kitchen's old vinyl flooring and in came glossy porcelain tile. The original cabinets got a makeover with creamy white paint and new hardware. Marble counters, a mosaic backsplash and new appliances completed the look.
That combination of new and vintage styles plays out across Judson's three-bedroom, two-bath home.
The front door opens to a small entry area, where framed photos hang beneath the word "Family."
It's a natural progression to the living room, where a brick fireplace anchors one corner. Friends and family urged her to paint the brick, but she decided against it. She did frame it with a white wooden mantel to soften the effect.
A large sectional sofa, in a slightly darker gray than the walls, provides plenty of comfy spots for watching the television, which hangs over a shabby chic cabinet.
The master bedroom overlooks the patio and large backyard. Judson said one of her first "treats" to herself was her new bed, which features an upholstered headboard.
Another bedroom is for guests, and in it is Judson's childhood bed from her parents' home on Thomas Road.
"My father, who is now deceased, gave me that bed. It has a very special meaning for me," she said. "I wanted it in this house."
Judson converted the third bedroom into an office/arts and crafts room, where she is relearning how to sew from her mother, Mary Judson.
"She made every prom dress my sister and I had, and she even made my sister's wedding dress," she said. 
Because this is Judson's first home, she has worked hard to do things that add value.
"This is probably not my forever home," she said. "When I do things, I am always looking to the resale value."
And we'll bet the "Fixer Upper" folks are smiling over that.