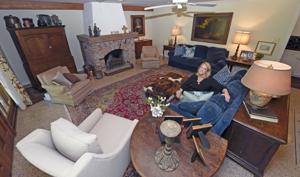 When Leslie Gladney bought her home in Jefferson Place in 1991, the first person she called for help was her grandfather, architect A. Hays Town. 
The house, custom designed for the original owners, was in the Oriental style with no walls, huge plateglass windows and folding Shoji screens.
It was the complete opposite of Town's elegant, comfortable designs, incorporating architectural salvage pieces and classic Louisiana elements, such as shutters and high ceilings.
With Town's advice, Gladney put in walls to create separate rooms, raised the ceilings, changed most of the windows and added cypress beams. She ended up painting the ash paneling and woodwork but kept most of the original terrazza floors.
"Other than the framing, Sheetrock, brick work and roof, I did everything myself," said Gladney, who sells real estate and paints. "'Big Hays' (the name she called her grandfather) came over every single day."
She completely changed the living room, which had a wall of tiny high windows and a built-in seating area with orange vinyl cushions. After removing the seating, the wall was closed to add a massive brick fireplace designed and drawn by Town.
"I added walls everywhere," Gladney said. "I need walls because I love art."
More than any room in the home, the dining room shows Town's influence. There, the walls are painted "Brick," a color Town developed and used in many of the homes he designed.
"Sometimes it looks terracotta. Sometimes it looks pink," said Gladney, who decorated the room with large antique pieces, an Oriental rug and rich print fabric with the same color background.  
At the side of the living room was originally a screened porch, which Gladney opened to create a patio with columns. She raised the roof and extended the porch around the back of the house, where one day she hopes to create a grandmother's suite. 
Sometimes, Town would surprise his granddaughter, like the time he decided to change the exterior color of her home.
Gladney said she left for work thinking the house was being painted pink and returned to find it done in a lime wash. 
Often, she said, her grandfather would arrive with a piece of furniture or an antique accessory.
Gladney's mother, Blanche Gladney, gave her some cranberry glass candle holders that Town did not like.
"I put them out in my living room," Gladney said. "The next day he arrived with a beautiful antique chest. He put the chest where the candle holders had been and told me the candleholders would never do on the chest."
Other pieces she acquired when the family divided her grandparents' things. One of her favorite pieces is the table where Town ate breakfast every day.
"I couldn't bear to have it refinished," she said.
The one-story home has three bedrooms and a butler's pantry. Gladney paints in a studio office she made when she closed in a part of the patio off the kitchen, which has white cabinets and plenty of space for painting on the center island.
Gladney started painting as a small child with Town, whom she often assisted when he did the paintings for his famous Christmas cards.
"He made up the stories to go with the cards," she said with a laugh.
She passed her love of art to her children, daughter Hays Boyle Cassels, an emergency room physician, and son Michael Boyle, a civil engineering contractor. Their childhood paintings fill a hallway in the bedroom wing of Gladney's home. 
Like her grandfather, Gladney is a collector. She started with copper pieces, religious saints and monks and antique pewter.
Much of her antique furniture and porcelain came from her grandfather and her mother, also a collector. "Most of the fabrics I used in the house are recycled from them," Gladney said.
Among her favorite pieces are several Quimper pottery plates her grandfather brought back from a trip to France he made with Blanche Gladney and her friend Mary Virginia Penniman. Leslie Gladney really liked her grandfather's plates, so she made a deal with him. If she could have the plates, she would paint a portrait of his dog.