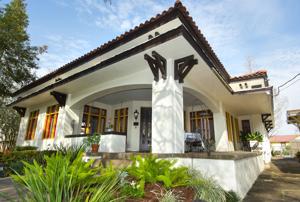 Marie Constantin's home might be out of place in many Baton Rouge subdivisions, but it fits perfectly in eclectic Spanish Town, Baton Rouge's oldest neighborhood. 
Built in 1919 by Victor Sachse and his wife, Fannye Bloomensteil, the neat, painted stucco home has the look of Frank Lloyd Wright's Prairie School style of architecture. There's the horizontal lines, tile roof with overhanging eaves, windows grouped in horizontal bands and somewhat restrained decoration. 
"Victor Sachse worked as a traveling salesman for a Chicago dry goods company, and that might be the reason for the design, which was fashionable in the suburbs of Chicago before Victor Sachse built his home," said Constantin, a commercial photographer perhaps best known for her photographs of Mother Teresa, of Calcutta, one of which was chosen by the Vatican to hang in St. Peter's Square for the nun's 2003 Beatification Ceremony.
Perhaps the most striking thing about Constantin's home is the light.
There are 120 individual casement windows combined into groups of six, three long windows topped by three smaller ones, on the main floor, and Constantin is familiar with every one of them. She restored each window herself in a project that took 13 months. 
"It took 36 hours to do each set of six windows," she said. 
The home also has its original door locks, which have all been restored, and the original octagonal crystal knobs on the cypress doors. 
Constantin appreciates the quality of the home, which she considers a work of art.
"I renovate constantly," she said. "If I can afford to fix something, I fix it, and when I get stuck on how to fix something, I send up a prayer to Victor Sachse."
A deep porch with broad arches sets off the main entrance at an angle between the front and east side of the home. The tall front door has been fitted with an original stained glass window by renowned glass artist Stephen Wilson, who did 18 separate windows in the home. His four major pieces are combinations of small windows. 
The front door opens to the five-sided foyer, which serves as Constantin's music room, where she practices her cello.
To one side is the living room, with its original coal-burning fireplace, now converted to gas.
"Folks who could afford coal burners were considered wealthy," Constantin said, "and the Sachse family were comfortable enough to put in a coal-burning fireplace." 
Working with interior designer Carl Palasota, Constantin painted the home in period colors with ochre trim accented with Chinese red, chocolate brown doors, oyster white walls and sky blue ceilings.
Over the fireplace is one of Constantin's photos of Mother Teresa, with whom she often traveled.
"After she died and Sister Sylvia, who would contact me to photograph Mother Teresa, died, I decided I needed to settle down, so I bought this house, my first house," Constantin said.
When she bought it, the house had been divided into a duplex. It needed so much work that her friends were worried it was too big a project.
"Sister Frances and Sister Rose invited me to tea thinking I had 48 hours to get out of the contract," Constantin said with a laugh. "That was something, having nuns giving me business advice."
Even though she didn't take their advice, several nuns helped her move and did some of the painting.
The dining room, off the foyer, is decorated in the simple Arts and Crafts style with a handmade table by Ford Thomas. The kitchen, behind the dining room, also contains a large stained glass window Wilson crafted in deep blues.
The main part of the home has two bedrooms connected by a hall. The entire back of the home is a luxury apartment Constantin rents to executives.
"This house pays its own note because of the apartment," Constantin said.
There's also an attic, the same size as the main floor, accessible by a full staircase. With heart of pine floors and six windows, it's renovation ready.
The 1,100-square-foot basement, also accessible by a stairway, is Constantin's office and laundry room.
It's dark vibe also creates the perfect spot for her Charles Addams' dinners, focused on the themes and characters of the spooky Addams family.