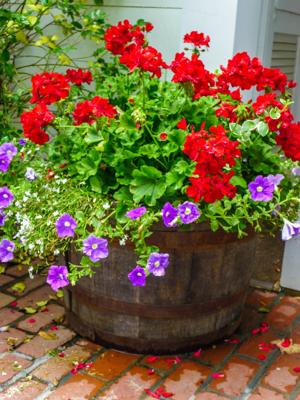 Talks on "Container Gardening" and "Successful Propagation for the Home Gardener" are the topics for the Sept. 12 program of the East Baton Rouge Master Gardener Association's Library Series.
The program is from 6 p.m. to 8 p.m. at the East Baton Rouge Parish Fairwood Branch Library, 12910 Old Hammond Highway. It is free and open to the public. Registration is not required.
In the first presentation, Ken Wilson will review the essentials of successful container gardening, including container dimensions and information about fertilizing and watering.
Handouts will be available on container preparation, with suggestions for which flowering plants work well in containers.
Wilson will also give a hands-on demonstration of how to prepare a container.
In the second talk, Cathy Mayer will demonstrate various methods of plant propagation. Those attending will be able to take cuttings from a variety of plants, including succulents, herbaceous and woody plants.
The next Library Series program, scheduled for Sept. 26 at the EBR Bluebonnet Regional Branch Library, will have talks on "Spice Up Your Garden with Fall Color" and "Landscaping for Birds and Other Wildlife."
All Library Series programs consist of two presentations that focus on topics appropriate to the time of year they are offered and are chosen with input from library patrons and staff.
For information on the 2019 EBRMG Library Series or the association's other activities, visit ebrmg.com.