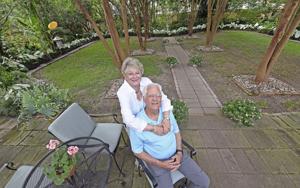 Nancy Jo and Hillary "Hickey" Poirrier occasionally thought about moving from the two-bedroom Old Goodwood home they bought in 1963. One thing stopped them — their garden.
"It's my child," said Nancy Jo Poirrier, a well-known local artist. 
It's actually two gardens, with the front yard a free-flowing collection of pass-along plants and the backyard a more formal, almost all-white garden.
With the exception of roses and azaleas, most of the plants in the front yard are from Wayne Womack and Neil Odenwald, both retired LSU professors of landscape architecture, and Lillie Edwards.
"Mrs. Edwards had a huge garden one street over," said Nancy Jo Poirrier. "When our son Michael was 4 or 5, he would help Mrs. Edwards, and he always came back with something for our yard."
When Edwards was moving to a nursing home, her son told the neighbors to get what they wanted from her yard.
"It was like one of those caravans homesteading out west," said Hickey Poirrier, retired football, basketball and track coach, who worked first at Glasgow and later at Kenilworth.
Creating a guide with a garden hose, the couple designed the curving beds in their front yard, incorporating ideas from gardening books collected and studied by Nancy Jo Poirrier, who retired after 40 years of teaching art in the East Baton Rouge Parish school system. 
The garden is planted with things that attract birds, bees and butterflies, like almond verbena and many varieties of ginger.
"All of my gingers are from Neil Odenwald and Wayne Womack," she said. "I feel like it's against my religion or theirs to get rid of any of those. I have them growing everywhere."
One of her favorites is the butterfly plant with seeds that look exactly like a butterfly.
"When the little 'wings' come up, the plant reseeds," she said.
She has blue salvia retrieved from a ditch in Edwards' yard, red canna, shell ginger, a huge night-blooming cereus and a milkweed plant, where monarch butterflies lay eggs.
"The butterflies eat the sap from the plant, and the caterpillars eat the leaves," she said. "The eggs form a chrysalis and then a butterfly, and the whole thing happens again and again on this one plant."
The backyard has a center allée of crape myrtles leading to a lush planted area with an armillary, an ancient navigational tool, as the focal point.
Hickey Poirrier constructed the allée and edged the beds along the sides of the yard with bricks and paving stones. He also used pavers to build a patio that opens from an outdoor kitchen.
White caladiums, growing in masses around the perimeter of the yard, give the space a cool feel even on the hottest of days. 
Caladiums can be an expensive one-season crop unless the bulbs are dug up and stored.
"I hated the digging part," said Nancy Jo Poirrier, who on the advice of a plant nursery owner came up with an ingenious plan to preserve the caladiums with little work.  
Years ago, she planted them in more than 200 black plastic pots. When the plants begin to die down at the end of summer, she moves the pots to her greenhouse, stacks them up and covers them with old plastic shower curtains. In the spring, when she starts seeing new shoots, she returns the pots to their places in the backyard for another season.
"I may add a little Osmocote and bone meal, and occasionally I may stick in a new bulb," she said. 
And, although most of the couple's garden space is given over to blooming plants and trees, into the few sunny spots in the yard Nancy Jo Poirrier plants some vegetables like red and yellow bell peppers in pots.
The Poirriers just finished their latest addition to the garden after Hickey Poirrier got rid of the boat he purchased in 1993 and all the boating and fishing equipment he acquired in the ensuing 27 years.
"I did not want a boat perched in my front yard, even though it was attractively hidden," Nancy Jo Poirrier said. "Our son, Gary, said that having all that stuff in the yard made the house look so secluded." 
They hired a contractor to remove the old concrete driveway where the boat had sat and to make gravel pathways. They then planted grass and established a small seating area. 
The Poirriers have made a few modifications to their home like redoing the kitchen with decorative tiles Nancy Jo Poirrier painted, glassing in a screened porch along the back and adding a second bathroom. "We don't need any more room than we have. Our sons and their families live within blocks of our home," she said. "This is where we started and this is where we will end."