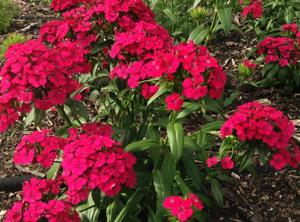 Need a little garden inspiration? Look no further than the East Baton Rouge Master Gardener Association's 22nd annual plant sale on Saturday, March 23. 
Thousands of plants will be available from 8 a.m. to 2 p.m. at the LSU AgCenter Botanic Gardens at Burden (Essen Lane at Interstate 10). If it rains, the sale will be from noon to 3 p.m. Sunday, March 24.
The large and diverse collection of plants for sale have been specifically selected both for beauty and their ability to thrive in this climate. Maps will be available to guide buyers to different areas.
Many of the shade plants, sun-lovers, herbs, succulents, ferns, ground covers, hanging baskets and climbers are Louisiana Super Plants, an elite collection of plants selected by researchers and growers based on their proven performance in demonstration trials as well as their beauty, vigor and desirability.
This year's sale offers 17 Louisiana Super Plants, including the three 2019 selections — Lime Sizzler Firebush, Lemon Sedum, and Jolt Series Dianthus. Other varieties that will be available are Petunia Supertunia Vista Bubblegum, Fireworks Pennisetum, Homestead Purple Verbena, Little Ruby Alternanthera, Luna Hibiscus, Frostproof Gardenia, Serenita Angelonia, SunPatiens (compact varieties), Babywing Begonia, Bandana Lantana, Butterfly Pentas, Senorita Rosalita Cleome, Mesa Gaillardia, Belinda's Dream rose and Rabbit Eye Blueberry.
The pollinator station will offer an array of plants that attract bees, butterflies and hummingbirds. These plants have been raised free of chemicals to ensure they are safe for caterpillars and pollinators.
Other areas will offer dish gardens planted with succulents; hanging baskets filled with specialty plants; old-time kitchen garden herbs as well as newer, more exotic varieties; and hard-to-find perennials. A searchable list of available plants will be posted at mgplantsale.com the week of the sale.
The Children's Tent will also return, and youngsters accompanied by an adult can build and take home a miniature fairy or critter garden.
The sale is manned by association members, all graduates of the LSU AgCenter's comprehensive Louisiana Master Gardener program. They can answer questions, offer plant care tips and help buyers find the right plant for their spaces. Gardeners who have pest or disease problems are encouraged to bring specimens to the plant clinic tent for a free diagnosis.
A recently installed traffic signal at the entrance to the site and an upgraded turn lane have improved access and ample parking will be available. Parking attendants can direct drivers to the handicapped parking area.
Buyers are encouraged to bring a wagon or garden cart to haul their purchases to the parking lot. Pets are not allowed.
A substantial portion of the plant sale proceeds are donated to the LSU AgCenter's Botanic Gardens at Burden, and the remaining funds support free educational and outreach activities that the EBRMGA offers.
For more information about the plant sale, email EBRMGAssoc@gmail.com and write Plant Sale in the subject line or visit mgplantsale.com.