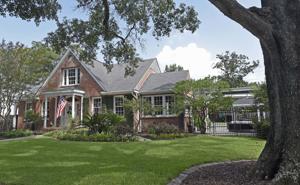 When Greg and Katie Bodin learned twins were on the way, their Garden District home suddenly became too small.
It had been the perfect house for the local attorneys' family of four, but now it was "either add on or move," Katie Bodin said.
They decided to add on. And there was only one way to do it — go up.
"When we were buying the house, the inspector said that the roof had such a high pitch that we could do an upstairs addition," Greg Bodin said.
In the three bedroom house, there was an amazing amount of attic space — enough for a master bedroom with 9-foot ceilings and a sitting area, a large master bath and a nursery, which later became a study. There's also two walk-in closets and three attic spaces for storage.
All was accomplished without raising the roof, although they slightly changed the pitch at the front using brick from an original chimney that had never been completed.
Greg Bodin designed the upstairs addition and other work the couple did on the home. Katie Bodin selected the paint colors and handled the decorating chores.
Shortly after moving there in 2006, the couple expanded and redid the kitchen, incorporating a walk-in pantry, study and breakfast room. In went new cabinets and appliances, and a small seating area took the place of the original breakfast room. Slate replaced the old floor.
"It handles wear and tear so well, but you have to be careful because if you drop something, it will probably break," he said.
They added a bar and a second sink area, but retained two glass-front cabinets from the original breakfast room. "They were so pretty, we just couldn't take them out," Greg Bodin said.
Few changes were made to the original living room and dining room, but they did decorate the dining room in a more casual style.
"When we eliminated the breakfast room, we decided that we didn't need a formal dining room," said Katie Bodin, who chose a woven straw dining table and chairs.  
Can't see video below? Click here.
Every time they made changes, the Bodins saved windows and doors and, quite often, used them in other places.
For example, a wall of closets in the original master bedroom were removed to create space for the stairway to the new second floor. "We used the closet doors upstairs," Greg Bodin said, "and we also had the millwork copied and replicated, so that the upstairs millwork is identical to what is downstairs."
The Bodins also updated the two original bathrooms by modernizing the fixtures and tile but kept their original style. They redid the large closets throughout the home, converting two side-by-side closets into a powder room off the living room.
One of their biggest changes was creating an entertaining area in their backyard. They extended the original patio and added an outdoor kitchen and a pergola, built by Greg Bodin and his son, Ryan, a sophomore at Southeastern Louisiana University. Daughter Andi is an event coordinator.
Greg Bodin also built a tree house for twins Eliza and Joseph, who are in the third grade at Sacred Heart of Jesus Catholic School, where Katie Bodin volunteers.
"I add to the tree house every year," he said, "but I am running out of space, so the tree house may be complete." 
The latest improvement is a no-maintenance pool.
"We dropped it into a very small backyard space," Greg Bodin said.
The Bodins love to entertain family, friends and other Sacred Heart students and parents, who often gather at their home after school events. "For us, much of what we have done is for the kids," Katie Bodin said.