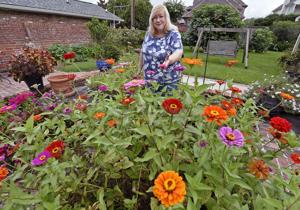 Norma Walters' green thumb is so prolific, she comes with a warning label.
"Ed says if it stands still, be careful. I am going to plant it," said Walters, laughing at her husband's joke.
But is it a joke?
Walters tells the story of a friend who brought her a tiny stick of a fig tree that was about to die. This summer it's at least 15 feet tall and filled with figs.
"I stuck it in the ground and it grew," she said.
That seems to happen a lot.
Seven years ago, Ed and Norma Walters swapped houses with their son and daughter-in-law, John Lucas and Terri Walters. The younger couple needed a bigger house for their family of three children. The senior Walters wanted something smaller.
Besides, Norma Walters had always loved the other backyard, where a regulation-sized swimming pool had been filled in by a previous owner and turned into a brick patio with built-in square flower beds.
She fills each square with a with one variety of flower — red salvia, blue salvia, pink sunpatiens, yellow lantana, two colors of angelonia, rudbeckia and petunias. There are two beds of different-colored zinnias. 
Interspersed among the beds are vegetables, herbs and pots filled with blooming plants.
"It's a riot of flowers," she said.
At one point, Ed Walters broached the idea of removing some of the beds and putting in a koi pond.
"I told him I couldn't possibly do that," she said.
The perimeter of the yard is planted with a hodgepodge of plants including blooming ginger, butterfly bush, Mexican petunias, a yellow rose bush and lilies along with the occasional vegetable.
"Any place I can stick something, I stick something," Norma Walters said. 
Most of the north side of the backyard is an outdoor kitchen as complete as any modern indoor kitchen.
With a slate floor and cypress ceiling, the outdoor oasis has a large barbecue pit, island with seating, dishwasher, television, full refrigerator-freezer and a patio table and chairs. A second section of the kitchen has a burner setup for boiling crawfish and a full stove, where Norma Walters makes her gumbo.
The home had a back porch when the Walters moved there. One day, while Norma Walters was sitting on the porch with her mother, Carolyn Calahan, now 92, they thought how nice it would be to have it closed in so they could view the garden year-round.
"My mother gave me a Clementine Hunter painting when we moved from the big house," Walters said. "So I sold it and closed in the porch."  
Walters always has a freezer stocked with fish and seafood she brings back from her camp at Grand Isle, a gift from her attorney husband after he won a big case.
"We all fish," she said. "Even the grandchildren fish."
Of course, she also has a garden at Grand Isle.
"I plant continually and I fish continually," she said, summing up her passions.
Walters said she has had a garden everywhere she has lived, even Alaska, where the couple lived when Ed Walters was in the military.
"I had marigolds in Alaska," she said.
While her summer garden is in full bloom, Norma Walters already has her fall garden sketched out in a notebook she has kept for many years.
For fall, there will be purple ornamental cabbage, mixed colors of kale, purple and gold pansies, dianthus, calendulas and enough lettuce to serve the family at Christmas. She almost always plants from seeds, not seedlings.
And every season, she mixes it up.
"Sometimes I change my colors," she said. And sometimes, she even goes a little wild.
"Sometimes I even mix my colors in the beds."