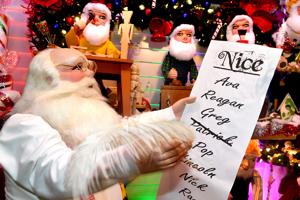 The elves are working hard at Santa's satellite workshop in Spanish Town, thanks to Greg Myers and Patrick Ford. 
At the first moment of darkness each day until Christmas, Myers opens the stage curtain on the front window to reveal a life-sized Santa surrounded by seven elves putting last-minute touches on toys to be delivered to children around the world. 
The workshop is the centerpiece of the over-the-top holiday scene with a vintage vibe that the couple creates each year.
Scattered around Santa's workshop are items from department store displays from the 1960s, which Myers for searches all year.
"Many are in pretty poor shape when Greg finds them," Ford said. "He restores them with original old motors. He redoes the faces."
ST. FRANCISVILLE — Kyle and Jeanne Robinson have found their own little piece of heaven in the wide open spaces of West Feliciana Parish.
Myers particularly loves characters and toys that move, like Santa and the snowflakes.
Santa is looking over his list of good girls and boys, and, of course, those who got on his bad side.
"Those are the names of people I know or people who have inspired me," Myers said, adding that his humorous "bad list" includes his mother, a pesky neighborhood dog and Ford, who helps but doesn't tackle any of the major work.
Myers also creates many original pieces, like his North Pole, which is made of PVC pipe covered with red and white ribbons.
There's also Christmas stockings, Santa's bag filled with toy soldiers and wrapped Christmas candies. There are even letters to Santa written in different languages. 
Outside, thousands of twinkling lights in all different colors set the yard aglow. And reigning over it all is a big, lit 1960s-era Santa. 
The lights, which "dance" to the nonstop Christmas music, cover small Christmas trees Myers makes from upside-down tomato cages, yard sculptures and a bright star made from sticks. And, because the strings of light are not quite enough, Myers also highlights some of the decor with colored spotlights.
On one side of the yard is a Nativity scene from the 1960s that Myers' grandparents left to him.
"I restored what was needed with some TLC," he said. "It is very special to me."
The Santa and two reindeer on the roof are also from his grandparents. 
On the other side of the house is an electric train. It actually runs year-round but gets dressed up for Christmas in December. The train parks itself under the house after the lights are turned off.
It takes Myers about two weeks to set everything up.
"I help some, but the ideas, placement and all the magic comes from Greg," Ford said.
"I love Christmas," Myers said. "I have lots of memories from my childhood that I am trying to recreate."
---
See it all
Through Christmas Day, see the display at 655 Bungalow Lane in Spanish Town, downtown Baton Rouge. 
Getting there is a little tricky: Travel west on North Street, (not North Boulevard), and after passing under Interstate 110, turn right on Lucilla Lane and follow it to where it intersects with Bungalow Lane, a one-way street going south.