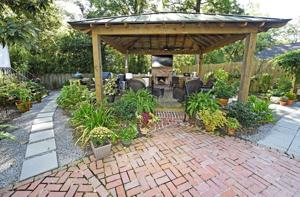 Maybe you can't go home again, but you can buy the house two doors down.
That's what Bobbie Ruth Williams did.
After spending two decades in a house on five acres outside St. Francisville, Williams bought a house in Baton Rouge, just two houses away from where she grew up in Glenmore Place. 
Her 80-year-old home, which really didn't need any work, is traditional design, with a nice flow from the den, kitchen and master bedroom to her backyard garden area.
And it's her backyard that is really something special.
Working with landscaper Emile Tundra, Williams built a covered outdoor entertainment center with a vaulted ceiling, brick fireplace and a natural wood floor.
There's plenty of comfortable seating, a table and chairs, three barbecue grills and a TV over the fireplace. What better place to watch the LSU Tigers take on any and all comers? 
"I am the world's biggest LSU fan," said Williams, whose house has lots of LSU memorabilia including a bust of a Siberian king tiger on a pedestal in her den. 
---
Can't see video below? Click here.
---
Williams created the major flower bed around a huge live oak on the west side of the backyard. To azaleas already there, she added green and flowering plants.
A wooden fence went up, along with two arbors, one with a swing and the other with hanging baskets and pots of flowers. Gravel was shoveled into a muddy area between walkways, and, around a birdbath, Williams planted lantana. She found an antique baker's rack to house her collection of succulents.
In places where there were no brick paths, stepping stones made the connection to different parts of the yard. 
Williams kept many of the existing plants, and, with Tundra's help, purchased some new ones. But she sowed much of her garden with cuttings taken from friends' plants.
"I will not throw a cutting away," she said. "I make cuttings from the same plants over and over."
To the permanent plants in her yard, Williams adds seasonal color, like bougainvillea, fall mums and coleus, and pots of Swedish ivy, which spreads from bed to bed in her garden.
Williams said she inherited her love of gardening from her mother, Ruth Richardson, who at 90 worked six hours in her yard on the day she died.
Even though Williams has moved "back to town," she keeps up with her St. Francisville friends and still participates in the clubs she belonged to while she lived there.
"I had always wanted to live in the country and sit in a rocking chair on my front porch, but now that I have moved back home, I want to be in the garden all the time," she said. "I would like to sleep out here if I had an outside bed."