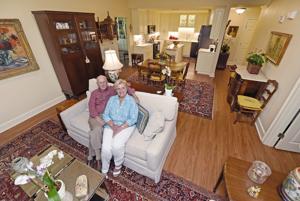 Dr. Aaron and Linda Roy knew they would eventually move to St. James Place, but they might have moved sooner if they had known how much fun living there would be. 
"We tell everyone we see how much we like it," said Linda Roy, whose 101-year-old mother has lived at the upscale retirement community for the past 18 years.
That's not to say there weren't mixed feelings about moving from their Bocage Lake home into a 1,600-square-foot, two-bedroom corner apartment.
The couple dreaded having to get rid of a lifetime of things.
After their children selected what they wanted, the Roys contacted Sharon Cardinal, of Cardinal Solutions, who measured everything they had, developed a plan for the new apartment and packed and moved the couple.
A weekend estate sale followed.
"By 5:30 on Sunday, our house was empty," Linda Roy said.
Then came the excitement of designing their new space. The couple made some major changes.
Out came a wall between the kitchen and living room to create a large open space connected to one of two large balconies. 
They completely redid the kitchen with new counters, cabinets and appliances, and wood floors were installed in most of the rooms.
A second bedroom became a TV room, where the couple added a wall of built-in cabinets. They also moved the laundry room from the kitchen to a converted powder room at the front of the apartment.
---
Can't see video below? Click here.
---
One of the things the Roys discovered was that a lot of the furniture they had in their house was just too large for the apartment, such as their king-size bed, which was replaced with a queen bed.
Their living room furniture was out of scale for the new living room, so, with the help of Vicky Bess, of Ethan Allen Furniture, they purchased pieces that fit better and selected paint colors and fabrics.
Even though they gave up some benefits, the couple said they are happy they moved. They enjoy the activities the facility provides, including lectures, musical programs, movies, a fitness center and educational classes.
"Happy hour is a big deal here," Linda Roy said. "There's an early shift that has cocktails at 4 and dinner at 5, and a later shift that has cocktails at 5 and dinner at 6." 
The entire project of updating and moving took almost four months, just in time for this past Christmas.
"We had our whole family, 22 people, for gumbo on Christmas Eve," Linda Roy said. "There was plenty of room for everyone."